1st Year University/College Degree Level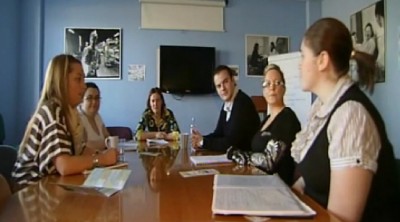 Seán Meehan - teacher & community coordinator
Programme 2
Students starting College/University in 2008
The aim of this programme is to help each student to gain as much as possible from the college experience, and to perform academically according to one's ability and potential.

Elements:
1. Fortnightly contact (by phone or in person) with a member of the J.U.S.T. support team. The aim of this regular contact is to ensure that any difficulties can be resolved as soon as possible.
2. A monthly peer group meeting. This meeting with other students at the same stage will provide an opportunity to share experiences and learn from others.
3. A year-long programme addressing specific issues, divided between two semesters.


1st Semester
Starting the week of Monday, September 8th, 2008
Day and Time:
Length of Session: 90 minutes
WEEK 1:
Starting out in College
WEEK 2:
Staying focussed and in control (Motivation)
WEEK 3:
Cultural event
WEEK4:
Lectures, note-taking and study skills.
What should I do at a Class or lecture?
What notes should I take?
What will I do afterwards?
How will I remember?
How should I study?
Where will I study?
When will I study?
WEEK 5:
Reading an academic book or article.
WEEK 6:
Using libraries and the Internet for research.
WEEK 7:
Essays, written assignments and referencing (acquiring the skills needed to complete written assignments).
WEEK 8:
Cultural event
WEEK 9:
Exam preparation (Being prepared to perform well)
WEEK 10:
Exam preparation (Being prepared to perform well)
Semester-long option: Computer skills
2nd Semester
Starting the week of Monday, January 8th, 2007
Day and Time:
Length of Session: 90 minutes
WEEK 1:
PERSONAL ORGANISATION (Setting and achieving realistic academic goals)
WEEK 2:
STRESS MANAGEMENT AND HEALTH PROMOTION (How to keep a healthy mind in a healthy body)
WEEK 3:
CULTURAL EVENT (Film)
WEEK 4:
PERSONAL DEVELOPMENT (How to make the most of what i have)
WEEK 5:
COMMUNICATION SKILLS (Developing clarity, logic and reason in what I say and what I write)
WEEK 6:
CULTURAL EVENT


Mid-term Break
WEEK 7:
TIME MANAGEMENT (Making the most effective use of my valuable time)
WEEK 8:
HOW TO PRESENT MY WRITTEN AND ORAL WORK
WEEK 9:
CULTURAL EVENT (Poetry)
WEEK 10:
ASSERT YOURSELF
WEEK 11:
I'M A HUMAN BEING I WALK TALL ON THE EARTH IN WHATEVER CULTURE
Week 12:
BEING PREPARED TO PERFORM WELL AT EXAMS
COMPUTER SKILLS WILL BE OFFERED TO ALL